I've been racing with 22″ monitors (pictured above) for nearly 8 years now, The ol' Acers held up fairly well, though power boards were replaced on two of them and recently one developed a dead line of green pixels. I had not realized, until very recently, that the virtual world had been distorted visually, like looking through a fish eye lens, because I had been using an FoV higher than what was mathematically correct. (Imagine a window, the closer you get the more you see outside the window, or the bigger the window the more you see, monitors are windows into the virtual world). After stumbling across this I upgraded to 27″ monitors, and planned to bring them closer, however I don't want them close always, since I use the machine for programming also.
I found and bought 3 BenQ monitors from TigerDirect and upon returning home, found they were far bigger than expected and would not fit on the old shelf, so they sat unused for nearly a week while I built the new monitor stand. Above is a good picture of the old shelf and the monitor mounting point of the Obutto Cockpit.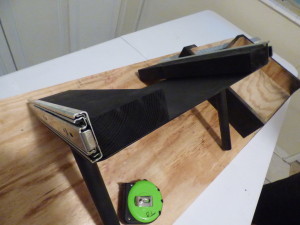 After a bit of brainstorming with my white board, and a call to my dad, carpenter by trade, to double check my ideas, I started at the base by drilling holes in the Obutto monitor stand and screwed on 2x4s with 14″ full extension ball-bearing drawer slides that are rated for 100lbs.

Then with 3/4 inch plywood a drawer top was made that would slide across the top of the base, and hold the monitor mounts, it was left open in the front so it could slide over the wheel. Then a 2×4 on edge was placed to keep the monitor support stable, with two 5 inch triangles in the front, allowing the monitor support board to slide between.
Final stretch was waiting for the monitor wall mounts to arrive from amazon, before spending a few hours mounting them to the monitor support board. Positioning the monitors took a fair bit effort, perhaps because gravity was fighting me. I also attached the front speakers to the monitor support. They may move since they are behind the monitors, but I think the sound is doing okay.
To prevent the draw from pinching hands, or sliding too far forward I added a stopper, initially out of 18 gauge wire, but that seemed to bend itself into breaking fairly quickly so now trying out large zipties. Might stretch over time, but that can be fixed by pulling them tighter.
The result of the project is a the monitors sliding about 7 or 8 inches closer for racing, with an angle of 50 degrees, I get a mathematically correct FoV of 145. Since the monitors are about 26 inches from my face while racing.